You are here: 
Safety and quality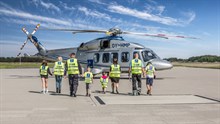 Safety and quality
Every single operation is carried out by a dedicated team of pilots, technicians and operations staff – always focusing highly on safety.
The Bel Air team carries out offshore flights approved for the highest standards in relation to quality and safety. The employees are proactive in all parts of the chain, which results in a timely and reliable, high standard to our customers.
Bel Air is also very focused on ensuring effective training and continuation training to the highest standards. All of the employees take part in continuation training within their individual areas of expertise. This ongoing training comprises state-of-the-art flight simulator training, theoretical courses, detailed emergency procedure, instruction and administrative courses.
Bel Air has implemented a safety management system as well as a quality control system, which has been structured for supervising and ensuring the standard, to which Bel Air's board of directors and management have committed themselves via the Safety policy in Bel Air.
Green smiley from Danish Working Environment Authority