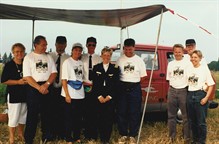 Sightseeing flights back in 1995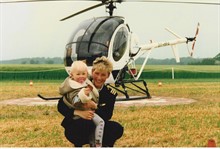 Susanne with her oldest daughter in 1995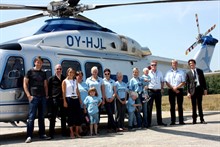 Bel Air takes delivery of the first AW139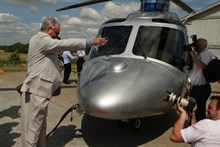 Naming ceremony for "Spirit of Agusta"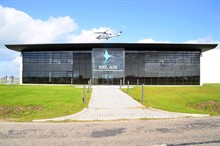 New Homebase at Esbjerg Lufthavn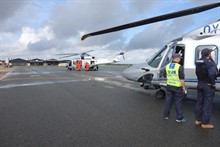 AW189 Fleetleader worldwide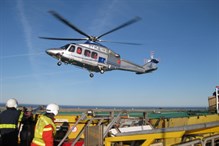 70.000 safe landings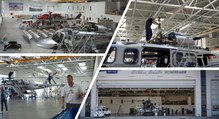 Leonardo Service Centre 
Bel Air's history
Bel Air is a Danish helicopter company, that was established by Susanne Hessellund in 1994
Susanne Hessellund finished her education as a helicopter pilot in 1994, after which she, in the first year of the company's existence, herself flew as a pilot. This continued until 1997 when she was employed with Maersk Helicopters and later with CHC Denmark. Simultaneous with this, she was running Bel Air in her spare time.
2002, she quit the job with CHC Denmark to work on the establishment of a new offshore helicopter company, DanCopter. Here, she was a co-owner, manager and pilot from 2002 until 2007, when the owners parted, due to disagreement on the future strategy.
After the sale of Bel Air's DanCopter shares in 2007, Bjarne Lastein pessed along his managing director position in Bel Air to Susanne Hessellund.
From 2007 to 2009 the team worked hard to construct and strengthen the Bel Air organisation and prepare it for offshore operations from 2009. During the same time period, a professional board of directors was established in Bel Air. This gave the company an outstanding foundation to develop from, discuss with the management and – not least – assistance and valuation of future projects.
June 2009, Bel Air took delivery of the first AW139 helicopter for offshore operations, and since then the company has expanded - both in the fleet of helicopters as well as in the staff of employees.
March 2010, Bel Air initiated an offshore shuttle contract of 2.5 year for Maersk Oil and Gas, and in 2011 we were very proud to be assigned a further 5-year contract with an option of further 3 times of 1 year's extension.
Bel Air's history
1994
Bel Air starts helicopter aviation.
1998
Hangar and heliport is constructed - Holsted Heliport inaugurated.
2002
DanCopter is established with Susanne H. Lastein as managing director and moving spirit.
2007
Susanne leaves DanCopter, and Bel Air sells the company shares. Bel Air builds a new administration building, extends hangar in Holsted.
2008
Bel Air obtains EASA Part 145 approval (maintenance),  and obtains airworthiness review certificate.
2009
Offshore operations initiated with a new AW139 helicopter owned by Bel Air.
2010
Offshore shuttle contract for 2.5 year for Maersk Oil & Gas starts in Danish sector.
Ship operations for Allseas out of Finland carried out with another AW139 helicopter.
2011

Bel Air takes delivery of the third AW139 and runs operations in the Danish sector for PA Resources for 6 months. Bel Air also performed ad hoc in this period of time.

2012

Bel Air management and board chose to focus on two-engine helicopters and to phase out the single-engine helicopters.

2012

1st of July Bel Air starts up on a 5 year shuttle contract with Mærsk Olie og Gas.

2012

 Delivery of the second Bel Air owned AW139 helicopter

2013

Delivery of the second Bel Air owned AW139 helicopter

2014

Delivery of 2 Bel Air owned AW189 helicopters

2014

Bel Air Homebase is completed

2015

AW189 fleetleader worldwide

2017

Bel Air fleet passes 70.000 safe landings

2020
Wintershall contract and Medevac helicopter for NOGEPA in NL with special Covid-19 precautions 
2021
Bel Air fleet passes 85.000 safe landings. 
2022
Contracts for flights in the Netherlands and Romania. External maintenance from bases in Denmark and the Netherlands. Various ad hoc flight contracts.